People will go and hang around in different places, they work or study in the different place but one thing is common between them is nobody will refuse to eat good food where ever they are. They will visit the park, movies, shopping and much more but one thing is common in those activities is eating food. Most people will eat at the place which is nearby them and is comfortable to them. There are many good places to have a good food in the capital city of Nepal where you can get nice delicious foods and an environment. Every restaurant would not satisfy everyone and each individual has their different choices. But if you are fan of food and want to explore more interesting foods life in Kathmandu, then these are the top 25 restaurants to eat:
Blueberry Kitchen:
Situated at Chhetrapati, Thamel, Blueberry Kitchen and coffee shop is Asian fusion restaurant mainly suitable for lunch and breakfast. Blueberry Kitchen specially provides Asian, Italian, American and European foods with a good variety of Coffee. They offer discounts on the happy hour before 5 PM. You'll certainly love their food and hospitality around near of Thamel with the great environment and the view from the roof top. They offer so many  varieties of delicious food so there's not only one specialty of the restaurant but still pan seared chicken, Italian pasta norma , salmon steak & shrimp scampi are the some of the best dishes you'll get at Blueberry Kitchen and Coffee shop.
Ghangri CAFÉ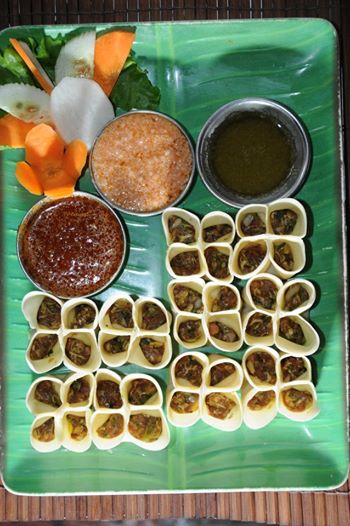 Ghangri Café is the multi-cuisine restaurant where you can get many varieties of delicious food to eat. The main attraction of this restaurant is Sumai Open Momo of many varieties. The place is open from 11:30 AM to 09:00 PM. It is located in Pulchowk, inside Hardic Fitness Center in Lalitpur, with very good dining ambiance. Besides the open Mo:Mo, cheeseballs, and Chicken Lollipop are another choice of many people at the Ghangri's. Other dishes are Chicken Corden Bleu, Crispy Prawns, Spaghetti, Sandwiches which is recommended to try the restaurant. Ghangri has a nice garden with dining area and it's cozy and cool dining rooms will provide the guests with a great environment. Ghangri is one of the best places where you can have nice food around the city with friends and family.
Bricks Café
Bricks Café is one of the places where you can get Asian, Italian and Nepali fusion foods to eat with the great environment and place. The building of Bricks Café was built more than 100 years ago in Rana Era at Kupondole, Lalitpur with the bricks in which, you can see that they were made in early 1900's. You will find genuine warmth and hospitality here which will make you feel comfortable and relaxed. The main attraction of this place is Firewood Pizza which is made under the firewood oven and this place is one of the best to eat delicious pizza of Italian and many fusions. Beside firewood pizza, people usually go there for lunch and dinner with Nepali and foreign style. As per review, this is one of the best places to eat in town.
Alchemy Pizzeria
Alchemy Pizzeria is Italian and fusion restaurant which is located in Thamel, Kathmandu. You can order many varieties of pizza with different style and toppings which are tasty and hygienic. Pizza and Pasta of different varieties are the main attractions of this place. Pizza capriccioso, Calzone, Green Margherita Pizza is the special dishes of this cafe. If you want to try a real Italian pizza or pasta then this is the place for you.
Funky Buddha Restaurant & Bar
Located in Thamel, Kathmandu Funky Buddha Restaurant & Bar is one of the best places to eat and enjoy. This place offers various dishes and also the musical environment at night. Usually, many foreigners visit this place with the huge amount of Nepali people also enjoy their time at Funky Buddha. It's the Continental cuisine restaurant. Involtinis of chicken or Beef, Panna Cotta, Fusilli are the popular dishes in the restaurant. Visit the Funky Buddha and enjoy the food and music with your friends at the heart of Kathmandu with very reasonable price.
Dharahara Momo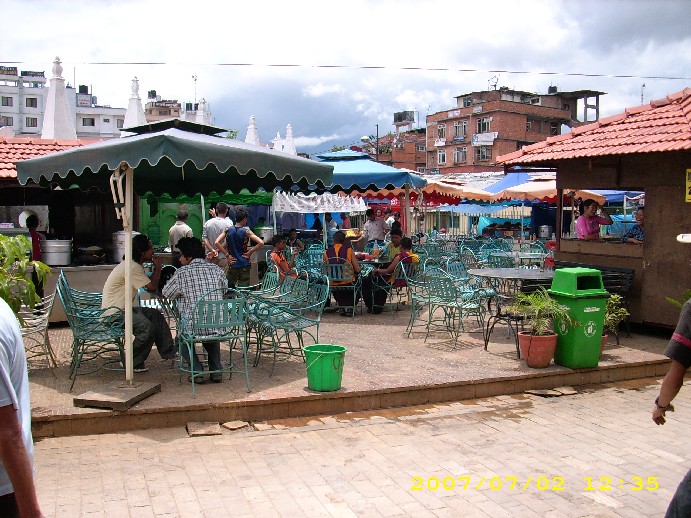 If you want a delicious and tasty momos in quick time, then Dharahara Momo is one of the best places you should go. Near Dharahara, the shop is serving typical momos with good hygiene. You need to pay and then you'll get the coupon of the specified momo and then show the coupon in the kitchen, then enjoy the most delicious momos. They serve momos in Tapari with pickle and toothpick. Vegetarian, buff and chicken momos are the menu of the restaurant. If you are a momo lover then this place is the one you shouldn't miss out.
Bajeko Sekuwa
This is one of the best Nepali Food brand around the country with different 10 branches. Surely you would have guessed the specialty of these places. Mouthwatering sekuwa are the main specialty of this place. You can get Sekuwa all around the country but these are the one of the best sekuwa you'll ever have. Sukedhara, Lazmpat, Anamnagar, Battisputali, Gairidhara, Sorhakhutte, Satdobato and Sinamangal are the branches of Bajeko Sekuwa around the Vally but they also have their branches in Pokhara and Bharatpur. Jhol momo, many varieties of sekuwa, fokso fry, choila are the popular dishes of this restaurant.
Bota Simply MoMo
Bota Simply Momo is a special place for the momo lover which is famous for its varieties of momo recipes. Sadheko momo is one of the favorite dishes at Bota. The name itself explains the main dishes you can get in the restaurant. Specially you can get Newari and Nepali foods at  Bota. Momo, Bara, Choila, noodles, burger and fried rice, Stick foods are some foods to eat at Bota Simply momo. It is located at Kumaripati and recently it has started its branch at Kalmal Pokhari, Kathmandu.
Baan Thai
Baan Thai is one the oldest Thai restaurant in town, which is located at Durbar Marga, Kathmandu. Baan Thai offers you with the real genuine Thai cuisines. The restaurant is best for the personal meeting and celebrations. As the name, Baan Thai offers you different varieties of Thai food, especially Seafoods. So if you want to try one of the best seafood in town Baan Thai is the old and best place for you.
Burger Shack
If you are in real hunger and want to fill your stomach with delicious burger then Burger Shack may be the place you want to visit. You will be offered with different varieties of Burger from size to the inner patties. Burger Shack is situated at Jawalakhel, Lalitpur. They usually serve nine different varieties of burgers.You'll get free extra French fries, onion rings and cheese fries. Bacon and Chicken Burger, Quarter Pounder and BBQ Dream are some of the best burgers you can get at Burger Shack.
Fire and Ice Pizzeria
Fire and Ice Pizzeria is situated at Tridevi Sadak, near Thamel. Fire and Ice first were opened in January 1995 by Italian chef from Naples, Italy. It became a very popular restaurant amongst foreigners and local residents. This is one of the best places to meet in a morning cup of Italian espresso or later on in the day with friends whilst sharing delicious Pizza, Pastas, Deserts and much more. It's an Italian cuisine restaurant with the specialty of freshly baked Pizza, Pasta and Lassagna. They provide best Italian regional dishes with finest imported ingredients. You will also be entertained with Latin, Italian music and opera play.
Le Trio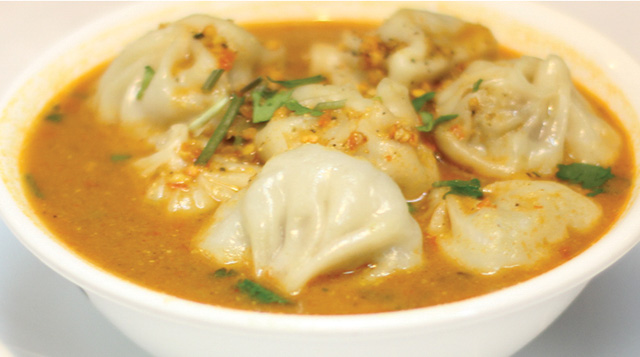 Le Trio is one of the best resultants in town which provide good hygienic food located in Jhamsikhel, Pulchwok. Le Trio is famous for its Jhol Momo Cha. Le Trio Momo Cha is freshly cooked only on demand. This is multi cuisine restaurant which has nice indoor seating place. Recently Kaagmandu Magazine ranked Le Trio in top 10 places for the best momo in Kathmandu. Other attraction at the restaurant is Crispy Potatoes, Buffalo Wings, and delicious desserts. If you are momo lover and want to taste extra recipes at the same time then Le Trio is the one for you.
Samay Baji
Samay Baji is one of the best places for Newari food lovers as the name itself is a name of the Newari cuisine. This is Located at Harisiddhi, Lalitpur with the modern and not leaving cultural setting. Choila is the one of the best attraction of Samay Baji Restaurant also the Samay baji itself which is the Newari dish containing many varieties of foods such as Choila, Baji, Achar, Aalu sadhkeko, Fish, egg and much other adding as people's choice.  Other attractions of Samay Baji are Bara(Wo), Sukuti, Chatamari, Samay Baji with duck delight, buff delicacy box, vegetarian treat etc. If you are spicy and hygienic Newari food lover then this is the ideal place for you.
Rosemary Kitchen & Coffee Shop
Rosemary Kitchen & Coffee Shop is situated in the heart of Kathmandu, yes that's Thamel. It's away from the crowd and noisy place where you can feel the homely environment with garden and indoor spaces with bar. Rosemary is the place where you can find a delicious variety of foods with the peaceful and calm environment where you can surely get rest and relaxed with the food served with the coffee sip or different drinks. There are many special dishes you can have at Rosemary Kitchen & Coffee Shop but few that must mention are Duck Breasts, cheesecake, Chicken tikka masala, rosemary buckwheat pancake and much more Eurasian taste that is the fusion of European and Asian cuisine. Rosemary kitchen also offers you 100% organic foods on your request and varieties of best wines from across the world. It's a nice place to hang out with friends or individual travelers and has delicious food with the good musical environment with reasonable price. It has also a branch in Pokhara.
Tipsy Beans Pvt. Ltd.
Located at Naxal, Kathmandu, Tipsy Beans is one of the best places in Kathmandu to have good food with nice environment. You can have the best items from the restaurant with the cozy environment inside Tipsy Beans. The famous dishes of Tipsy Beans are Pork Ribs, Fried Rice,Chicken Satay, Chicken momo and much more. Many varieties of spicy Choila are also you can try at Tipsy Beans.
The Lunch Box
The Lunch Box is located at Kupondole, Lalitpur where you can find Chicago Style foods without traveling the United States. It has a small cozy eating space and an open kitchen near the seats. This makes you feel that it's basically focused on providing great food without any kind of distractions. If you are a huge burger, sandwich or hotdog fan, then The Lunch Box is the place you should not miss if you are near Kathmandu. The restaurant provides hundreds of varieties of burger, hot dog, and many more items. You can order as your choice or according to your hunger that is there are huge varieties of size in their burgers and hotdogs. Other popular dishes at the restaurant are mixed fried rice with different alternatives of veggies, ultimate Chicago bacon burger. Probably the best American style fast food you'll get to eat in town.
Tasneem's Kings Kitchen
Located at Jhamsikhel, Lalitpur, Tasneem's Kings Kitchen is one of the best places to eat in town. If you are fond of Indian, Pakistani and Nepali food then you can get the services of Tasneem's Kings Kitchen which is near the town. You can directly go to Tasneem's Kings Kitchen, and have your food in the cozy environment of the restaurant or you can directly order the foods at your own home if you are having some kind of small get-together at home. Mouth watering Biryanis and other Mughlai dishes are so popular at Tasneem's Kings Kitchen. Kabsa, which is a traditional Middle-Eastern dish, Kebab, sheikh are some specialties of Tasneem's Kings Kitchen. If you love non-veg items then this would be the best choice for you in the town.
ToyoKaraage (JFC)
ToyoKaraage is a Japanese franchise for the fried chicken. It's located at Thapathali, Trade Tower in Kathmandu. If you want to try the different taste of chicken then ToyoKaraage or JFC would be the choice for you. They use special ingredients for the frying of the chicken. The new opening of the 2nd and 3rd branch in Kathmandu will be soon at Bhat-Bhateni- Bishal Nagar & Maharajgunj. At an affordable price, you'll get hygienic and tasty fried chicken. Chicken breast, Chicken wings, and chicken Gizzard are the most liked items at ToyoKaraage.
Places Restaurant & Bar
A Nice and cool environment with delicious varieties of foods and good music and what would you need anything else to spend time with the friends and special ones. Yes, all these facilities you can get at Places Restaurant and Bar located at Saath Ghumti Marga- Thamel, Kathmandu. Places Restaurant & Bar is a multi-cuisine restaurant richly known for its quality of service and food. The specialty of the place is Biber Dolmasi (It's a Turkish dish which basically has Green Pepper stuffed with Spiced Rice & Cashews), True Blood Mocktail (Beetroot Juice, Apple, Mint and Lemon), Quesadilla (Mexican), Pesto Momos, Pumpkin Momos with Chilli Chocolate Sauce Popcorn Chili (fried in Chinese Kung Pao Sauce together with Fresh Vegetables) & Spinach Pie. Places have an arrangement that can gather people about altogether of 100 inside and out in the terrace. So you want to try different varieties of international food then this may be the best in town.
OR2K
OR2K restaurant, which is located in the heart of Thamel, Kathmandu is an Asian European Fusion vegetarian cuisine. You can get comfortable and funky environment at OR2K. in OR2K you can have Indian, Mediterranean, European, Asian, Vegetarian-Friendly, Middle Eastern, Nepali, Israeli and many more dishes as you like. If you are a vegetarian, then you'll not found any better place to have some extra delicious food than in OR2K in Kathmandu. Clean, hygienic and very friendly service is the key to the progress of this restaurant. Falafel, vegan burger, and lemonade, vegetable combination, cauliflower pie, zucchini pie are some of the main attraction of OR2K. You can go there with your friends on Special occasions, Family or children, Large groups or on a romantic date. You'll not be disappointed.
Kathmandu Grill
For the best-grilled dishes in town, you can visit Kathmandu Grill restaurant and Bar which is located at Thamel, Golkopakha. It's mostly barbecue restaurant with different Indian and Nepali cuisines.  Kathmandu Grill is a cozy restaurant with indoors and outdoor areas. Chicken, Mutton, and Pork Grill are the main attraction of the restaurant. Surely you would like it if you want to try something special in non-veg. You will get the local feeling with the western test and standard. You can certainly have typical Indian or Nepali thali set and other continental items at Kathmandu Grill. Chilled beer with the grilled meat and salad with your friends or partner will surely make your day out at Kathmandu Grill restaurant.
Nina's Café
Nina's Café is serving you American-style food and steaks. It's located at Maharajgunj, Kathmandu. Nina's Café is best for those who want to try a different style of burgers and steaks. People love it's great, fast food with friendly service. The café has the garden and covered bar service. You can find the wide selection of snacks to start with and sweet deserts. Apple crumble, chicken fingers , lemon tart, steaks and burgers (with blue cheese), pork chops and ribs are some recommended dishes in this restaurant but there's lot more that you can explore. You can go with your friends and family, then enjoy your outing with different delicious continental food.
Koto Restaurant
Koto is a pure and popular Japanese cuisine restaurant which is located at Durbarmarg(Kings Way). There are two branches of it in few meters apart from each other on the top floor. Koto offers pure and hygienic traditional Japanese food from many years. People from different location visit Koto just to taste genuine Japanese dishes once. Sushi, prawn gyoza, Tonkatsu, Goma ae, Sashimi, Karashi ae, Nabeyaki Soba, Sukiyaki set are some popular Japanese dishes that you can try at Koto. You can also try cold soba noodles and mackerel dishes and many several special menus. If you want to taste something new that you've not have yet then this Japanese Restaurant may be the best place for you.
Rum Doodle Bar & Restaurant
Rum Doodle Bar & Restaurant is located at Naxal, Kathmandu. If you are having very busy life and you want to offload the pressure then you can go to Rum Doodle Bar & Restaurant to have a really good time and nice food. You can find compact space and wide varieties of drinks at the restaurant with plenty of nice continental food. Chicken basket, Steak, Meat lasagna and Nepali Food is some specialties of the Rum Doodle Bar & Restaurant. One of the best thing in that restaurant is you can write something about your journey on the foot-shaped papers about your traveling or trekking experiences and can read the others also.
Utse Restaurant
Utse Restaurant has opened more than 30 years ago at the busy Thamel area. This restaurant has proved the best Tibetan and Nepali fusion cuisine since a long time. You can have the best t Gyakok in Kathmandu at Use. Gyakok is basically a traditional stew which is very common in Tibet includes meats, veggies, mushrooms, eggs and other ingredients as per the customer. It's served in a pot with the constant heat underneath by charcoal which is also known as hot pot meal. You can have super spicy Tibetan momos stuffed with vegetable or meat, Nepali Thali, noodles, varieties of soups and many more Tibetan and Nepali foods at the Use Resturant in affordable price.